Welcome the new member in our family, Wong Jayden
He has come to "reality" on the 29th of June, 1.39pm.
Weight at 2.98kg
He's the 2nd bundle of joy for my brother and sister-in-law.
Which is also my 2nd nephew after 5 years+ gap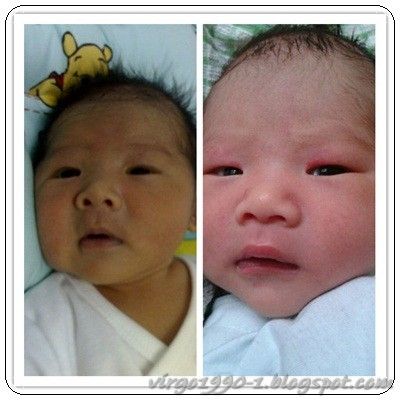 Left: Jack son on year 2006
Right: Jayden on year 2012
Any resemblance?
Many people say that both of them looks very much like my brother


The very cute photo that I've received on the night on his born because I couldn't make it to go back JB to share the joy with my family.
But yes it is very cute!!
So, our house currently is planning for a full moon party at the end of this month..
Hopefully I can go back and help out..
I think my schedule is full from now all the way to Raya Holiday..
Cause this counted as my "final semester" for my degree..
Which I have my final year project, assignments to be due as well as mid term all coming up..
However, this is also the final months for me to ENJOY STUDY LIFE TO THE FULLEST!!!