A beautiful mistake happened last Saturday.
Actually me and bei bei have no idea what to eat for our brunch that day.
Since he wanted to do survey for new LED monitor at the Digital Mall so I suggested that we head to PJ for food hunt.
Then I took out his phone and click on foodspotting apps.
Narrow down to Sec 17.
I don't know it's my problem or the phone's fault and made me mistaken there's a stall selling roasted chicken/pork nearby Happy Mansion.
When we reached there we saw Food Foundry was quite crowded.
Then we went to the other side of the Happy Mansion.
Out of the sudden we saw "My Elephant" Thai Restaurant.
This restaurant was previously highly recommended by syuan.
So we just want to save all our effort to find the "roasted pork/chicken stall" that doesn't really exist at Happy Mansion surrounding.
So, luckily we found a parking and we just try our luck in this restaurant.
At the main entrance, it supposed to have set lunch menu however, it's only available on weekdays.
So we are shy enough to sit back on our seat and order those dishes that we don't know at all!!

Green Passion RM8
This drink is definitely heavenly!! I asked the waiter what he recommend us and this is one of the three he recommended.. You'll never regret paying RM8 just for a glass of drink.
I'm not quite sure what's the combination but from our guess it contain mint, guava, passion fruit
It's very refreshing!!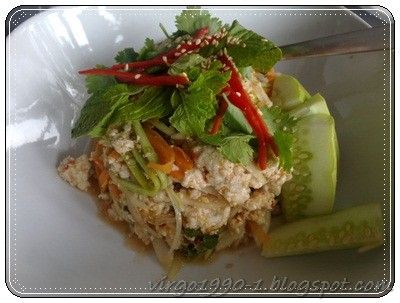 Laab Gai RM16
We just simply ordered a chicken dish from then menu. Out from the expectation, both of us love it from our first bite. Although it's sour till the end of the plate but it's still not bad ya.


Brown rice + jasmine rice RM3 per person
You don't have to order the rice they'll serve it automatically but to charge you at RM3 per person. This is also a unlimited refill portion.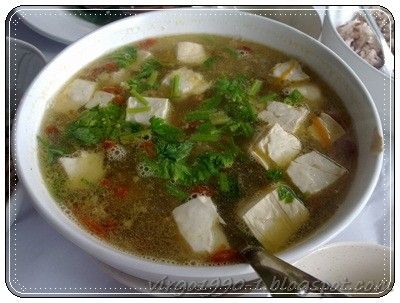 GJ Gai Sup Horapa RM15
This was also another "simply order" from the menu. Cause i'm afraid bei bei don't drink spicy tom yam soup and afraid the previous chicken dish ordered was sour thus i ordered this vegetarian beancurd soup. My first sip is really unforgettable. It's so nice!! So fragrance!! It consist some herbs to cook with and although it's stated vegetarian, but i believe they had added some seafood inside cause i bite the shrimp. Cause they confirmed with me it's a vegetarian soup but i said i'm ok with it.
So, the waiter should had notice there to add some extra ingredient inside.
Will definitely return to My Elephant again!!
Total bill for our meal is RM49.50
Felt a little bit guilty looking at the amount.
But, it's definitely damn worth it!!! Must try!!