I know this post was overdue for more than a month...
But I'm just trying to catch up my post up to date...
So please bear with me ~.~
However, I'm gonna run out of blogging topic!
Please help... Any suggestion what should I blog about?
My life is so dull... Sigh...
Anyway, during the raya festive season, within 4 days I'd traveled from JB >KL> Kampar > Ipoh >Penang>Ipoh>KL>JB
It's very short, rush but enjoyable trip for me...
27/8 (Saturday)
Went to KL after I knock off from work...
Reached KL pretty late due to the jam...
Then meet up with mr bf's friends...
Had dinner with his friends and I tumpang their car to Kampar to meet with the mr bf...
We overnight in Kampar before we start our journey the next day...
28/8 (Sunday)
We woke up early to prepare ourselves..
Then we headed to Ipoh for dim sum breakfast...
After that we continued our journey to the north...
Reached Penang at noon..
Don't know where should we head to and we dropped by at the Queensbay Mall...
Lepak there without don't know what to do and time passes by and we check in to our
hotel
It is a double storey terrace house where has quite a number of rooms and can accommodate all of us...
The weather is not nice... It rained all day and night...
Thus we didn't get to try lots of food and also due to some other problems...
Saw a sign board written "Pasembur" in the food court..
And I'm curious what is it...
So I ordered and it came out to be....
Our so called mee rojak but their taste is slightly different with more sambal taste
29/8 (Monday)
Had the Penang Laksa at Jalan Penang (corner shop) where the most famouse Penang chendol located..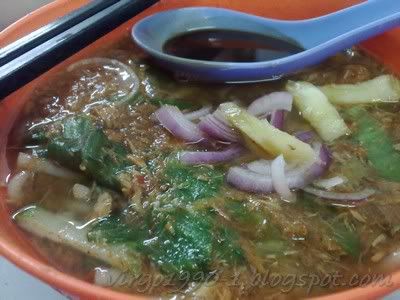 Yummy penang laksa!
And also the penang char koay teow... Although the portion is small but it is definitely worth the try!
Most famous penang chendol at Jalan Penang
After we left Penang, we drop by Ipoh for our early dinner at Lao Wong Ipoh Chicken Rice
Seriously I couldn't find any specialties about Ipoh chicken rice but yea it's damn crowded in the shop...
30/8 (Tuesday)
Went to Mid Valley right after depart from Kampar...
Had Mr Teppanyaki as dinner and also bro bought Hilton Hotel's mooncake for home...
And I did grab my chance to buy durian pancake!!
It's a very tiny stall at the basement going to The Gardens...
I guess I'm addicted to durian pancake >.<