Just wanna share with you guys see what I've got from Internet?
It's a white aquapix lomo waterproof camera!!
And you know how much I got it?
It's only RM37! RM30 for camera and RM7 postage fees!
Specification: Material : Plastic
Product Size : 120 x 80mm (4.7" x 3.1")
Max Depth : 10 feet (3 meters)
Best distance : 4 feet
Focus : Free
Film to be used : 135 (35mm)
Lens : 28mm, f/9
Battery : No battery needed
If you want to get it I highly recommend this
seller
I got it white! Isn't it cute?
So far till now I haven't tested the function cause I'm still using my vintage camera to finish up the films...
However daddy asked me to try out my camera function: waterproof or not?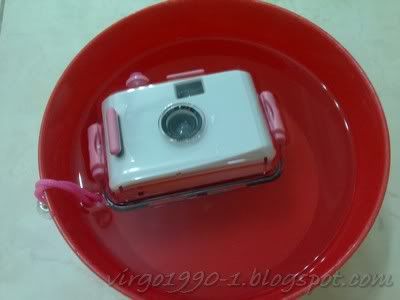 Can you see it's floating on the water?
Closer shot
After I took out from water after several minutes of submerge in the water, I took out the casing it's all dry!! Hehe... Can't wait to try out my camera!! *wink*