Don't know what to cook for a person meal?
Afraid of hassle?
Vermont Curry is just your perfect choice!
Sorry I'm not doing any advertorial in my blog...
But I just write what I felt...
Cause staying away from family biggest problem of course is your 3 meals and laundry...
Laundry is not a problem to me cause my hostel has washing machine...
So the only problem for me is to settle my own meals!
I don't like to eat the same food everyday...
And the varieties of food in my condo is not much, and it's kinda expensive also...
So, normally I cook at home myself...
This is something new to me but I find it very convenient and delicious too!
Vermont Curry can get from supermarket like Jusco or Cold Storage for RM15.99 I chosen Med. Hot this time...


What I do is to boil water in a pot first...
Then put in the carrots and potato (just like ABC soup)...
Let it boil/cook until the carrot and potato turn soft...
Then put in the Vermont curry (I put in 2 cubes)
Lastly I put in some pork cause I don't want my pork to cook until too soft or hard to chew...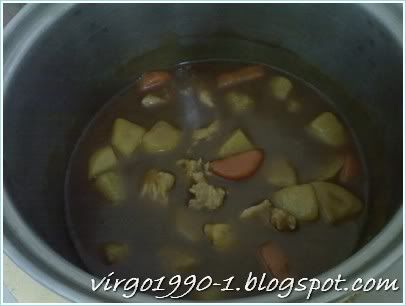 The end product
Vermont curry can be eaten in many ways!
So far I've tried pasta & rice only...
Cause 1 pot is enough for my 2 meals!
Isn't it is convenient and cheap?
Cause I'm lazy as well... =.=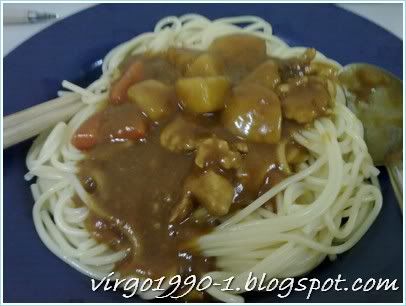 Pasta with Vermont Curry
Rice with Vermont Curry
The taste go so well in these ways!
Why not to try yourself too? =)
Get it from any supermarket that most probably selling Japanese product and you'll get it...
It come in 3 type which is mild,med hot and hot
Each box can cook for many servings depending on your own taste preference =)