It has been real long since my last update..
Finally my busy hectic study life has currently come to a pause..
And now I'm starting to grow mushroom at home and have no better things to do..
But, I'm going to start working on the coming monday!!
Complex feeling.. Nervous yet excited..
So first will come with food post first...
There's A LOT of thing I want to share here..
But I guess I can update it slowly 1 by 1..
There's a restaurant call Hayaki at Tmn Danau Kota, Setapak.
I know there's a few branches in town too.
I 1st tried this restaurant is due to the Nasi Kerabu which I think their Nasi Kerabu with ayam percik is awesome!!!
This is the 2nd visit where I went there with my course mates after our last mid term test in this semester to chill ourselves...

Chendol with pulut


Longan tauhu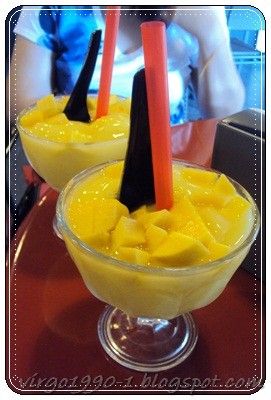 And this is still my all time favorite. Mango ice rock!!! You musn't missed it!!!


Oriental chicken chop
Duh.. I can say the pricing for the restaurant still counted as reasonable.
You can have wifi service here.
I've been there twice and i saw people ordered a cup of drink and sit there all day long..
And also quite comfy environment.
Why not give it a try here? =)