Kota Kinabalu Trip- Day 1
This is our long waited trip.
We booked the air tickets and hotel rooms at February 2011.
By then, everyone thought it was really a long way for the trip.
But just a glance of eyes ya we already back from our trip.
We got really good deals for both air tickets and hotel rooms.
Return air tickets + 4nights stay at Tune Hotel only cost us RM103.50 per person.
No kidding! And the hotel rooms were shared 2 person per room!
Then we got a land tour for 5d4n for only RM490 per person!
Meals, transportation and all entrance tickets and boat rides are included!
On 3rd of January 2012 16 of us were travelled with 2 different flight.
It's because we want to get the best deal!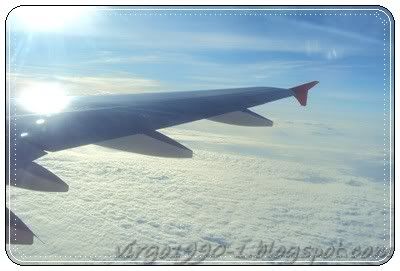 I love the sea of cloud in sky ♥
Once we landed on Kota Kinabalu, our 1st driver (got 2 drivers cause 16 of us need 2 van to fit all of us) brought the 1st batch of us to Centre Point and we walk ourselves by looking at the map.
We came to the handicraft market, and wet market.
And we saw this particular fruits.
It's called..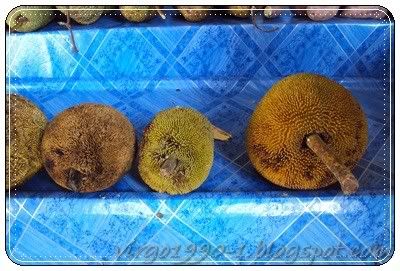 Tarap
Its outer shell is real soft that you can't pinch at it at all!
It has very strong smell like durian.
If you like tarap, you'll love it, if you don't like it's like how people hate durian.
So, we bought 1 and tried it at the restaurant where we had lunch.
It's really cheap! Only RM3 for such a big Tarap.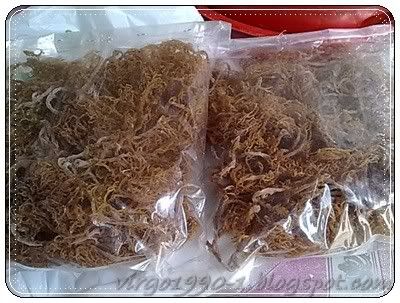 Then I was requested by my family to buy this "vegetarian bird nest"
It's actually seaweed.
It's one of the special local product that you can find in KK.
2 packets only cost me RM18
In West Malaysia, for each packet cost you RM30++
Our driver picked us up to have lunch at a nearby restaurant to meet up with the rest of our members.
We headed to a restaurant called "Sri Melaka" for lunch.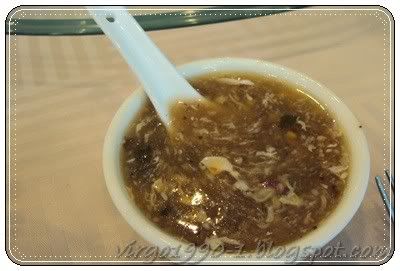 Don't know what soup is this but definitely not Shark Fin's soup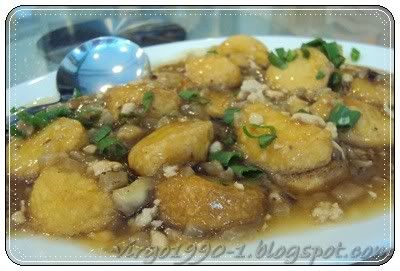 Japanese Beancurd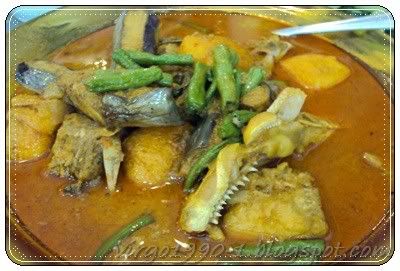 Curry Fish Head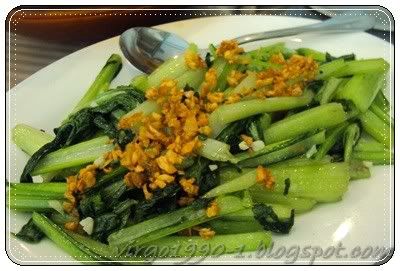 Green Vege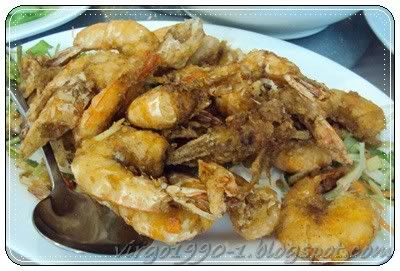 Prawns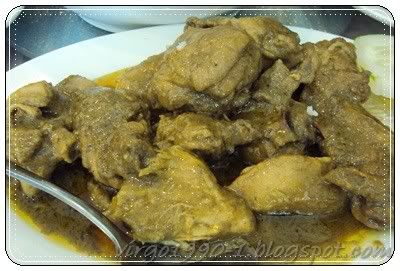 Rendang Chicken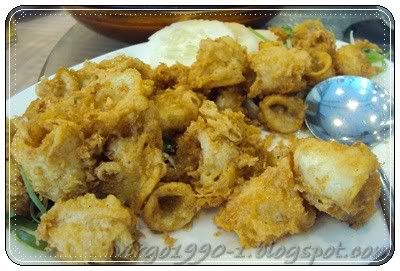 Fried Squid


Sweet and sour chicken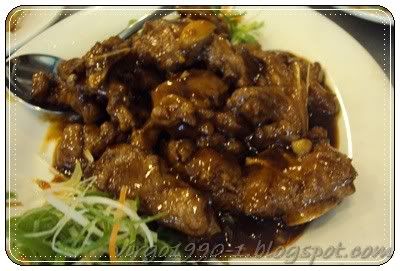 Lamb
During this very first meal in KK, all of us were pretty shocked for the food served for us.
The amount of money that we paid for the land tour and the service they provided really made us doubt for a little while.
Friends worried and said that would it be only the 1st meal are so good?
But the answer is no.
Every meal were really that good!!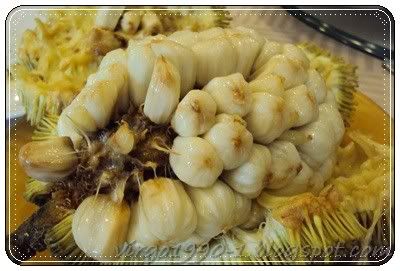 So this is how Tarap looks like in the inside.
It taste like.....I could say like mangosteen.
Don't know.. If anyone of you happened to be in KK just try it out!
Anyway, I like it.. =)

And fruits served by the restaurants
After lunch we supposed to have a city tour.
But due to the poor weather, we have to cancelled for the day and postponed it to another day. =(
So we were sent back to the hotel for check in.
Tune Hotel in KK was strategically located at 1Borneo Mall
You can just shop and eat at 1Borneo.
There's even access door to 1Borneo through our hotel rooms!
Which we don't have to get down to lobby and walk through the shop houses..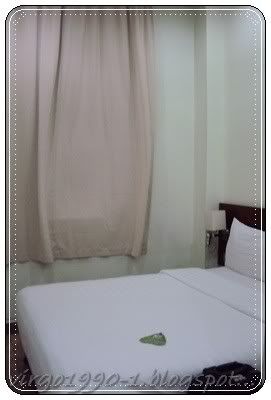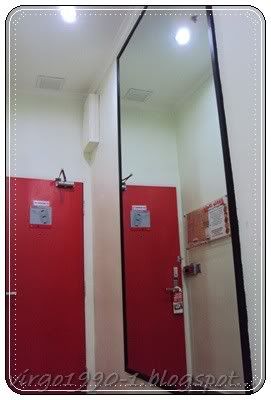 The rooms are really good that we can't complain of what we had paid.
In facts, we are more than satisfied for the rooms.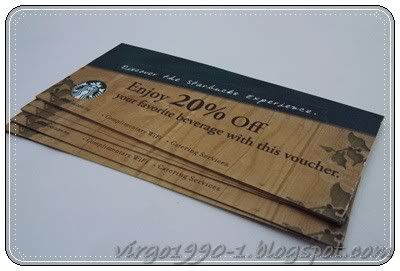 Upon check in, the front desk gave us each person 1 Starbucks voucher to spent at 1Borneo Starbucks!
At night before we went out for dinner, again the front desk gave us double of the vouchers.
Ermz so yeap.. This ended up we hanged out at Starbucks for 3 nights out of 4 nights stay at KK.
1st night dinner was at a Floating Seafood Restaurant called Kampung Nelayan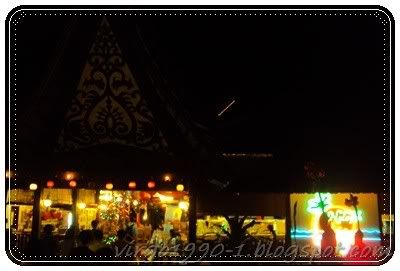 Fresh lobster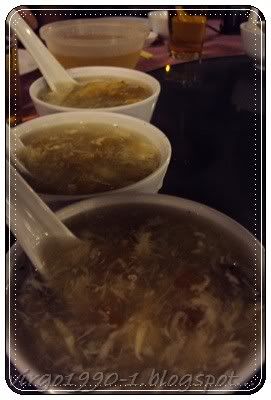 Seafood soup


Fried rice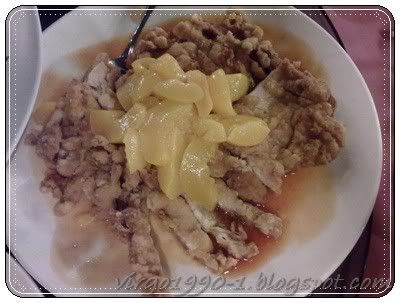 Peach chicken
I ♥ it!!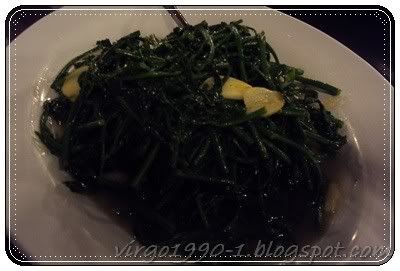 Vege 1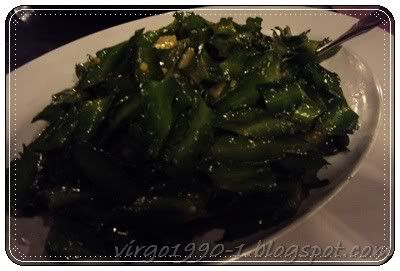 Vege 2


Big big fish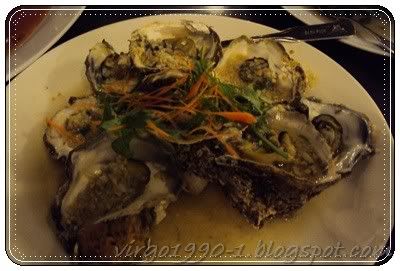 Oysters!
The speciality of this restaurant is that you can enjoy watching shows while you eat dinner!
Traditional dance were on the show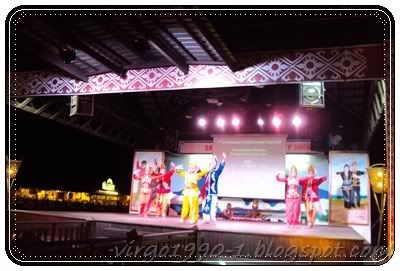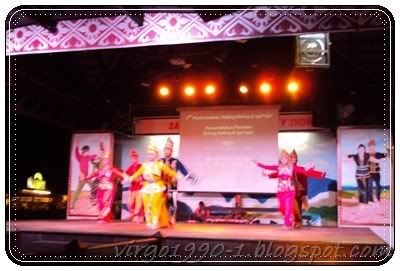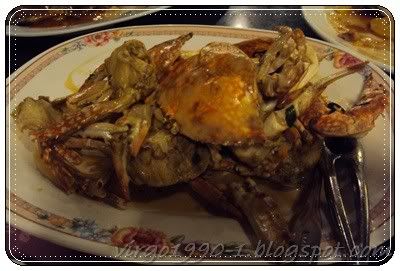 Lastly, crabs for the night
Then they have even dance and others activity to involve the guest.
So Leewei and Kim was invited to join them on the stage.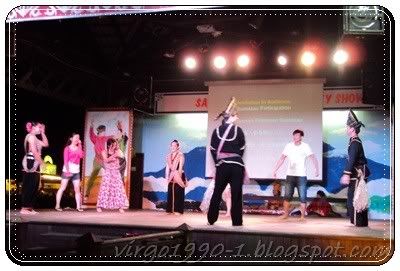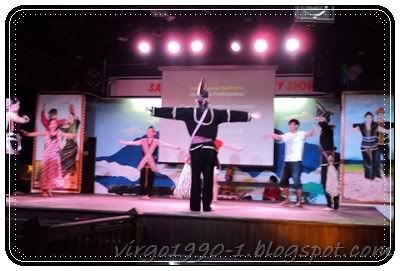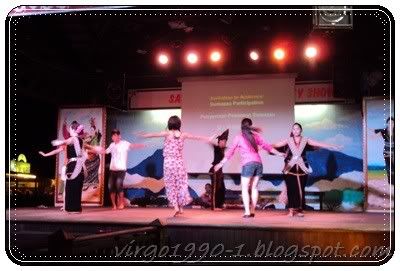 And this time Bun was invited to shoot at the balloon by using the traditional hunter method.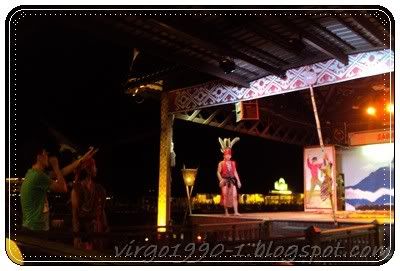 That ends our 1st day in KK. Shall update again next week. Cause I'm going back to JB today!! YAY!!