Aloha!! Hey readers!! Wondering why am I lost?
Hehe...
Seriously sorry... Cause the days in JB really nothing much...
Everyday busy at home cause of house shifting...
It took us really few months for renovate and clean the house...
I hope in near future I got the chance to update all the photos here too!
And yea finally I had ended my industrial training for 6 months!!
And now I am currently doing my part time job in KL~
So far not sure when will I going back to JB...
Most probably mid of January 2012 before my new sem starts...
The biggest event of the month "Clefies Gathering 2011"
The
only 2 days
that 7 of us are available for a overnight gathering within November to February...
How pathetic is that...
All of us is busy with our own life and holidays! =(
On da 4th and 5th of Dec... We decided to rent a room at La Grandeur, Senai (previously known as Palm Resort) for our catch up session...
We got the room pretty cheap for only RM218 without breakfast...
So we got our dress code for this gathering!
The dresses Ling bought us few years back as a souvenir from Cambodia...
And this is the 1st time we had the chance to wear it together!
6/7 without Ellen
Le, me, Ling, Mimi, Ting, Xian
We went off to poolside for photo shooting...
Initially we plan to swim but then it started to rain...
Met few weird guy who came approach to take photos with us...
And the most hilarious jokes was he thought we were models...
Which requirement does it passes? =.=
Mimi, Ting, Ling, Xian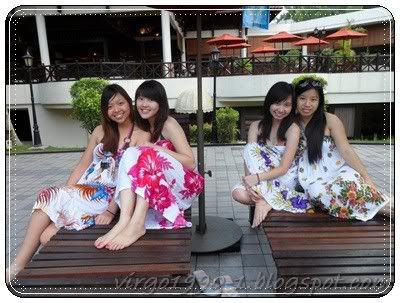 Me, Le, Xian, Ling
<3 this pic
After photo shooting we went to Jacuzzi and had very nice chatting session...
Before heading back to hotel room saw Ellen came with her nephew and niece...
Before the kids went back took photo with them..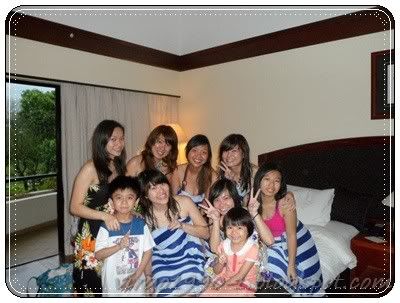 Cute kids!
Then all the while we have unfinished topics to talk about...
We chat all the way from check in till we check out next day...
And before we went Senai Airport for dinner we took loads of pic...
So no captions for below images...
There's a very awkward scene where we went to Senai Airport...
We came out from the lift from the basement parking and we saw huge crowd of people...
Like few hundreds of people were looking at us at the same time...
I was thinking is there any pop stars coming out from the lift with us?
But after a few moments only realize those are Islamic families who were there welcoming their family members back from Haji...
And we felt so embarrassing wearing such eye catching and felt so not respect to them...
The pillow talk carry on till 3am and all of us slept because we wanna catch an early swim! =D
All of us woke up at 8am and had our breakfast before get wet!!
Actually the purpose we girls were not to swim but took lots of pics! Teehee... =D
Hope there's another 1 soon!!!
Hehe...
**Hopefully I'll get to update here more frequent... >.<